Heady OG is a tribute to our fallen brother Nick B and has become our of our new favourite strains.
This cultivar is pure fire! Created with an extresmly special O.G cut crossed with our Gringo Loco male. Like many others, OG Kush has always been in our top 3 favourite flowers to smoke.
This unique pheno we call Nick B O.G brings back that feeling of why we fell in love with Kush in the first place. Heavy gas/fuel aroma, beautiful solid explosive buds, and extreamly potent effects. Adding to the recipe, we pollinated the Nick B O.G with our male Vanilla Kush x Mendo Dope giving it a splash of candy terps, a stringer mold resistance as well as insane resin production capabilities.
This is a triple threat combination strain. Not only will the heady OG get your attention just by the looks alone, but once you give it a taste and feel the effects, you will know why it is now one of our favourite strains to smoke.
We are always in the lab creating new flavors or out on the hunt to find the best weed to smoke. Some people call it a high grade; some say it's top-shelf, but like our homie, Nick B always said, "where's all the headies"?
That term has stuck with us since we were kids having smoke sessions in thebackyards of our parent's houses. Only the best of the best quality herb can take on the name headies, Nick made that very clear every time something wasn't up to par.
It has to be A+ at all angles from looks, terps, flavor, and high. We smoked hundreds, almost thousands of flavors together from thedispensaries and all of our own personal homegrown.
In 2019 we lost one of our best friends Nick B. Not only were we childhood friends, but Nick was part of our original music group, the N.O.Y.B. BOYZ, back in 2007. Since high school, Nick was a ganja farmer.
He was one of the first people in the crew that grew his own garden, and he was also the one who introduced us to TGA Genetics. We had lots of great times in the studio, at concerts, on hikes, and eventually in both of our gardens.
It wasalways so much fun checking out what we had done over the seasons and showing off new plants that we loved. We would share new strains that we were growing, and he would share new strains he was working on as well. We had a profound bond over cannabis and everything it brought along with it. Growing up together, we all became real cannabis connoisseur's learning about all the different strains and flavors.
Over the next 10+ years, we all had our own personal gardens, and we all shared a deep passion for growing. Nick got into the art of breeding around 2016 and started making his creations with some of his favorite strains. In 2019 he worked on some new projects with his family and grew in his garden. Sadly, he passed away just months later. As harvest time was coming up, his family wanted us to check out the garden and help give them an idea of when to harvest.
The feeling of being there without him with us and knowing that this was the last garden he ever grew wasvery emotional. As we walked through the garden, it was packed full of so many delicious flavors, but one plant, in particular, caught Bleezy's eye. It was one of Nicks' latest creations, and it was something extraordinary. The following week, right before the garden was harvested, thieves raided it, and most plants were now gone. When we came back tocheck on what was left, it wasdevasting, and we were all in shockat the situation.
Nicks family was now just trying to save what they could and do whatever was possible to make it through. Somehow the plant that caught our eye earlier hadjust a couple of bottom branches left from where it was chopped. We took a clone of this special plant that was in full flower, and we were able to re-veg it back to life. We did a test run indoors soon after and couldn't believe how special this plant was.
It was the ultimate Kush that we all loved smoking together. Theflower wasstunning, and it grew extremely well we knew that this was meant to be a keeper. Inmemory of our cuddie, we named this strain "Nick B O.G.." Webroughttheplantback to Nick'sfamily so they could continue growing it for the many years to come.
We continued working with this strain, and we wanted to bring it into our next breeding project to continue his legacy. We picked an excellent Vanilla Kush dominant malefromour Gringo Loco strain and began our pollination process.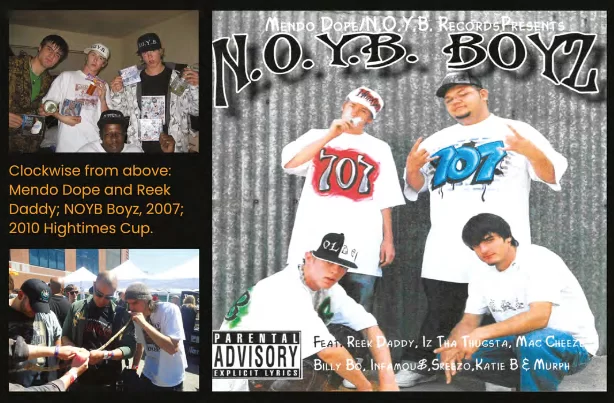 For many years the Vanilla Kush has been a staple strain of ours that we love growing and has unique properties that not many other strains have. It is one of the most mold-resistant plants we have ever seen, and the terpene profiles unlike any other flower we have ever smoked. In addition, the resin production and quality of the Vanilla Kush are phenomenal. It is the perfect type of crystal for trichome collecting.
With our 'It's Mendo Dope'genetics intertwined in the mix as well; we were introducing a wider spectrum of terpene production along with an added boost of vigorous growth. Our goal with this breeding project was to combine all of our favorite aspects of these flowers into one masterpiece. What was created could only be described as "Headies." This plant performed better than we could have ever hoped for; from the overall growth to the mesmerizing looks of the flower, this new creation was the fire! To keep our brother's legacy going, we named this new strain "Heady OG." This is a great indoor plant and will also perform fantastic outdoors with its strong built-in mold resistance and early flowering traits from the Vanilla Kush. Traces of the 'It's Mendo Dope' help this plant rage in an outdoor setting and add delicious sweet terpenes along with vibrant colors.
The Heady OG has an 8-weekflowering time and can produce huge yields. The growth pattern is perfectly spaced, allowing every bud to reach its full potential and easily trainable. In the final weeks of flower, you will see a color transformation on the leaves that is phenomenal to see. Some phenos are very dark with deep greens and purple hues, while others pop right off the plant with bright green, yellow and purple patterns similar to tie-dye colors. Easy to harvest and trim, this plant produces more flowers and resin than anything else. The terpenes are on point and will resonate on your taste buds, coating your nose and mouth with multiple layers of vanilla candy and race fuel. Smoking the Heady OG will make you feel like you're on another level.
When you open the jar, you will want to eat it; when you break down a nug, you will drool as you inhale that sweet candy kush flavor, that will keep coming back for more. This strain has a very heavy high, ideal for pain relief and sleeping disorders. The stony effects penetrate the brain cells almost instantaneously, leaving your mind in a foggy daze. We recommend this strain for professional smokers looking for the next top exotic flower. We didn't call this strain Headies for nothing, it truly is what we like to call the best of the best, and we are very picky judges.
Strain: Heady OG
Breeder: Mendo Dope
Genetics: Nick B O.G X Gringo Loco
Yield: Heavy
Harvest: 8 to 9 Weeks
Indica: 60%
Sativa: 40%
Written and Published By Mendo Dope In Weed World Magazine Issue 156
Image: Mendo Dope