As usual, the feminized seed bank Sweet Seeds® is proud to open up the 2018 season loaded with new sweet strains that will delight all the cannabis lovers around the world.
For this 2018 season we have gathered all our knowledge and expertise to keep researching and reinventing us. In this sense, we arrive to this new season fully charged with no more and no less than 11 new strains. All of them, as always, with 99,9% of femininity and a germination rate standing above 95%. Here is a small tour through some of them with an especial focus on the CBD-rich genetics.
After performing several crosses with different specimens featuring high percentage of CBD regarding to the level of THC, the last year we released the first two strains from our medicinal line: Sweet Nurse Auto CBD® (SWS59) and S.A.D. Sweet Afgani Delicious CBD® (SWS60). As you know, Cannabidiol (CBD) is a non-psychoactive cannabinoid with multiple therapeutic applications and minimal side effects. CBD is often used as an anxiolytic, antipsychotic, anti-inflammatory, analgesic (painkiller) and it is also used to treat complex illnesses as, for example, refractory epilepsy.
With all this in mind, for the 2018 Collection and after our last year's debut in the field of medicinal cannabis, we decided to go beyond and create a renewed and very wide CBD line, with seven new strains.
First CBD-pure cannabis strain
Among our new medicinal strains we would like to call your attention to Sweet Pure CBD® (SWS65), the first CBD-pure cannabis strain from the Sweet Seeds® genetic collection, with THC contents below 1% and very high CBD levels standing between 8 and 15%. This strain is especially designed for therapeutic cannabis users who wish to benefit from the medicinal properties of CBD while avoiding the psychoactive effects of THC. This strain is the result of two generations of auto pollination of a CBD-rich clone featuring ancestors from the Diesel family. The plants show the usual structure of an Indica-Sativa hybrid, even though its Sativa predominance. Besides that it releases a sweet and fruity aroma that is reminiscent of the usual citric tones of mandarin or tangerine and suggests slight touches of cypress.
CBD versions of our most celebrated genetics
But that is not all! Furthermore, we developed new versions of our most memorable and appreciated strains, turning them into "CBD-rich" varieties. This is the case of Cream Caramel CBD® (SWS67), a strain that features mainly indica structure, with a big main cola, a strong main stem and an outstanding ramification of the side branches that are long and flexible. This amazing plant releases sweet and caramel aromas, just like its original version. From now on you can also enjoy the CBD version of one of our fastest flowering genetics: we present you Green Poison CBD® (SWS70), featuring very fast and vigorous vegetative stage and the surprisingly fast and explosive flowering stage so very well known in our original Green Poison® (SWS14). As you already know, the aromas of this strain are delicious, intense and fruity.
Besides that, this year we have also released the Cannabidiol-rich version of one of our best and most aromatic strains, Ice Cool CBD® (SWS69). This is a very productive and resinous plant, totally adapted to the requirements of both indoor and outdoor growing. Just like every other version that we create, this strain preserves the taste and aroma of its original version: exquisite, very strong and penetrating. A true delight! Finally we decided that we should not loose the opportunity to bring one of the first strains from our seed bank into a CBD-rich genetic and Black Jack CBD® (SWS68) was born. A very productive genetic with a robust structure that features sweet aromas with a very special touch of incense.
New CBD-rich strains
But there is still a few extras! We have incorporated two new strains to this medicinal line. Honey Peach Auto CBD® (SWS64), a mostly indica autoflowering strain with melon aroma and very fast flowering: the grower can expect to harvest the plants only eight weeks after the germination of the sweet seeds. The last one of them is Chem Beyond Diesel® C.B.D. (SWS66). This strain is the resulting hybrid from the cross between one of the most famous genetics from the United States of America, Chem Dawg, and an European genetic from the Diesel family. This marvellous therapeutic strain features a typical American aroma, intense and full of delicious hints. The fact that this strain produces amazingly high amounts of resin turns it into an excellent choice for extractions of all kind.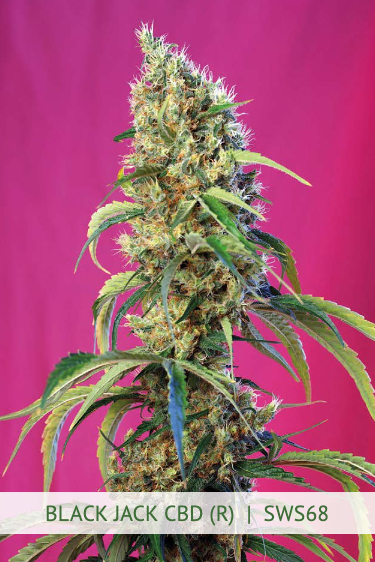 As an explicit proof of their high quality, the excellence of these two new CBD-rich genetics has been immediately attested by one of the main events of the cannabic scene. In the 2018 Spannabis Champions Cup that recently took place in Barcelona, our Chem Beyond Diesel® C.B.D. has been awarded with the 2nd Prize in the CBD category and Honey Peach Auto CBD® conquered the 3rd Prize in the same category that awards the best strains in the market featuring high levels of Cannabidiol.
This season at Sweet Seeds® we did our best to present you diverse and exquisite new strains that we hope you can get a buzz from, attaining to your needs, desires and tastes. We hope you enjoy them! Happy 2018 season and Sweet Smokes!
Written and Published By Sweet Seeds In Weed World Magazine Issue 135