Despite some tough competition over the years, Auto Mazar has remained a top-5 customer favorite ever since she was released.
The original Mazar genetics deliver 20%+ THC levels along with legendary toughness and ease of growth. The bullet proof Afghani Kush genetics used in Mazar have stood the test of time. Indica dominant, with medium height and heavy bud/resin production, Auto Mazar has been equally popular with outdoor growers as with indoor growers.
The lure of Afghan genetics
Dutch Passion first got their hands on Mazar genetics many decades ago in the 1980's. Travelling around Afghanistan, exploring, sampling and collecting the best cannabis genetics was considerably easier back in the day. Many cannabis lovers from around the world made it their business to sample the best of Afghanistan's cannabis treasures, including the Dutch Passion team. Of all the Afghan Kush genetics that were enjoyed and collected, the Mazar genetics were the cream of the crop. Expect a supremely enjoyable effect, a strong indica stone which offers instant physical relaxation along with a wonderful euphoric high which sweeps away tension, stress and anxiety.
Auto Mazar – indoor Afghan Kush in 10-11 weeks
Auto Mazar uses the original cup winning Mazar genetics but in an autoflowering form. With modern autoflowering breeding techniques none of the potency is lost when converting to an auto format. If you like THC-rich autos with 20% THC potential then the highly consistent Auto Mazar genetics should be on your radar.
Like many indica Kush varieties, Auto Mazar grows in a compact form. She usually reaches around a meter tall. In large grow containers, such as big 30 liter+ airpots she can exceed a meter and yield well. Usually, the central bloom is the tallest and the heaviest yielding. The central bloom is often surrounded by a crown of slightly shorter peripheral blooms.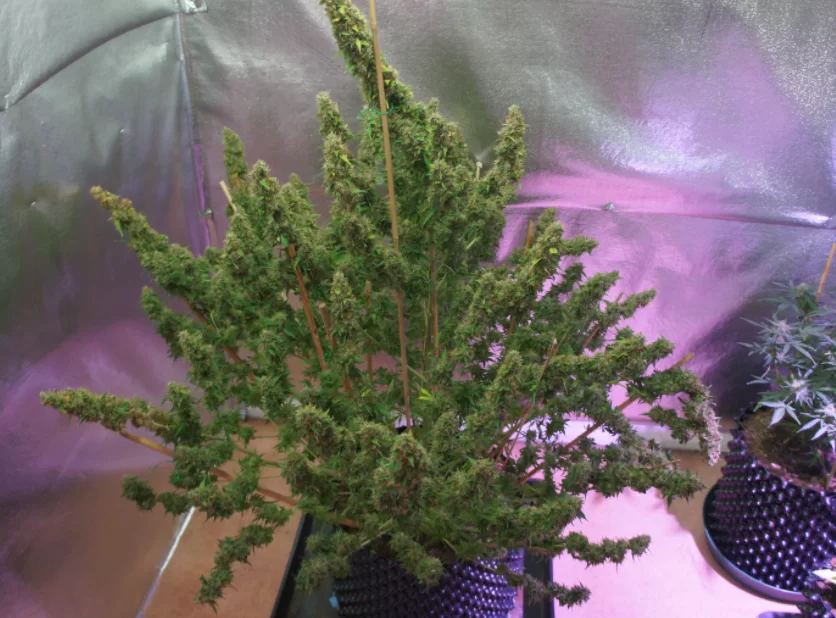 Mazar genetics are traditionally used to growing at altitude in relatively barren surroundings, the inherent toughness is a great asset to the home grower who will find Auto Mazar will grow well in any grow medium or grow system, indoors or outdoors.
Auto growing, simpler than you think
Many modern autoflowers, including Auto Mazar, are designed to grow from seed to harvest in around 10-11 weeks. Because that life cycle is pre-determined and inflexible (unlike photoperiod seeds) the autoflower grower needs to make best use of the time available. If an auto seedling is not cared for well, or if growth is stunted (e.g. from over feeding) there is little time available for recovery.
Growing autos is easy. Often the grower won't bother re-potting the plant into larger containers. Many auto growers will plant the seed in the final growing container, set the light timer to a 20/4 light cycle and leave the genetics to do the rest. Autos can be grown under 18 hours of daily light, or even 24 hours of daily light. But 20 hours seems optimum.
Indoor auto growing: Try an extra week at the end
Indoor growers of Auto Mazar usually harvest around 11 weeks after germination. But if your auto is still showing plenty of white pistils (hairs from the buds) you may wish to delay harvest for a week or two until the auto looks riper. The extra time will allow the auto to increase the bud mass as well as increasing THC/cannabinoid production. Many indica growers don't mind feeling the heavier effects from an indica which has been allowed time to fully mature. Anyone that is growing weed regularly should consider comparing buds which have been harvested early and late alongside their normally harvested buds. Some growers find that they have a strong preference for buds which have been given an extra week or two. If you are growing your own weed, you may as well grow it precisely the way you prefer it.
Indoor autoflower cultivation and powerful lighting
One of the most useful tips when growing Auto Mazar, or any other auto, is to use powerful lighting. Supplemental side lighting delivers excellent results. The side blooms on an auto have huge potential to swell, but they need sufficient lighting to do so. Sometimes the hanging height of the light can be determined by the height of the tallest central bloom. If you bend the central auto bloom horizontally, it allows you to maintain more of an even canopy which allows you to maximize light levels on the canopy. With optimized light levels on the canopy you can look forward to some XL sized harvests. Those growers who have invested in LED grow lighting can look forward to premium quality harvests and the highest THC levels.
Outdoor auto growing tips
Autos have become a mainstream option for outdoor weed growers, primarily thanks to their speed of growth. Growers in northern Europe often get their auto seedlings germinating in May and place them outdoors in late May or early June. Plants can be harvested in August, meaning that you can enjoy a mid-summer harvest. Growers in southern Europe will be starting their first crop of autos in March/April.
One tip to maximize your harvest is to give your seedlings the best possible start before they are planted outdoors. Some growers will grow their auto seedlings indoors under 24 hour light for a couple of weeks before planting them in their final outdoor location.
This protects the seedlings while they are young and vulnerable. Once outdoors, be sure to use plenty of slug pellets to deter slugs/snails. Where possible, further protect your outdoor autos from rabbits/deer with e.g. some chicken wire fencing which can be held in position with sticks. Autos take around 100 days from seed to harvest outdoors, a little longer in poor/cool conditions.
Auto Mazar tends to stay around (or below) a meter tall outdoors. This makes her much easier to hide than 3m tall photoperiod monsters. And the tough, durable Mazar genetics means that Auto Mazar needs no maintenance once she is planted outdoors. Just an occasional drink/feed in the case of extreme drought.
Auto Mazar: Quality and toughness from legendary genetics
Whether you are growing indoors or outdoors this year, Auto Mazar has the flexibility and durability to deliver high quality results. The THC rich Auto Mazar buds have been grown and enjoyed by thousands of growers both indoors and outdoors. If you haven't yet tried growing a few auto seeds outdoors, give it a try this year.
Written and Published By Tony, Dutch Passion In Weed World Magazine Issue 146