My journey cultivating cannabis began as a young girl who grew up on a small farm and developed a love for growing all things; My personal love affair with cannabis began in the mid 1990s when I developed pain associated with scoliosis.
Cannabis helped me so much that I wanted to share the healing powers with others in need.
I found that there were many patients in the medical program needing assistance, so I began providing cultivation instruction, clones and medicated edible snacks.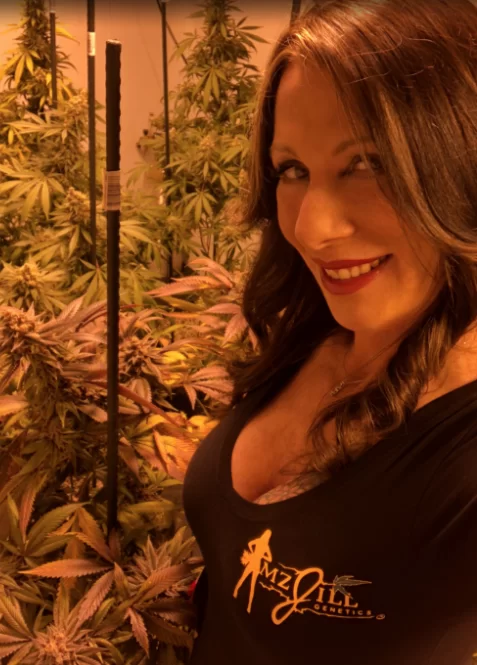 I met a patient with MS in the Willamette Valley of Oregon, whom I began helping with tips on growing and provided some edibles that helped ease her symptoms. She was so grateful that she gifted me a clone named Melvin.
Melvin came from Falls City Oregon and was held by some locals for 25 years. I took Melvin home and grew her out. She was an amazing Orange Skunk, turning vibrant hues ranging from burgundy to black in late flower. At about 21 days into flower she begins to smell like burnt rubber or an electrical fire.
Throughout flowering she took on a strong orange smell, finishing with nice solid orange citrus flavored buds.
I couldn't shake the feeling that Melvin seemed like such an unflattering name for such a beautiful cultivar. She boasted beautiful dark leaves that looked like velvet and she had an incredibly undeniable orange citrus smell. Orange Velvet seemed a much more suitable name.
Being a young single mom to three beautiful daughters and working as a teaching assistant with the local school district, I spent as much spare time as possible learning more about this miracle plant.
I became a member of a website called OverGrow, which hosted cannabis forums where I could correspond with other growers. I got to talking with a whole host of people and we shared our stories and tips regularly. Being one of only a few female growers, I caught the eye of another grower named Subcool.
Overtime, Sub and I spoke often and developed an interest in one another.
Our connection grew and we agreed to meet in early 2000, but this was sadly just as he was whisked away by the law on a previous cultivation charge.
He was held in a jail in Wisconsin until he was picked up on a TransCor bus (prison bus) and was transferred to Florida.
After facing charges in Florida, I assisted Sub with the transfer of his judicial paperwork to be served through the Oregon judicial system.
In 2001, Sub and I created the first American Seed Company, known as TGA Genetics. Over the next 16 years TGA created many award winning strains with the help of several amazing breeders.
Subcool and I collaborated and created several infamous strains together and also created many popular strains in our own rights as individual brands.
My flagship strain is Jilly Bean and Sub was most well known for his Jack The Ripper strain.
In the beginning, TGA had a team in Canada known as Badboy and HomeGrown. Team Canada was responsible for strains such as Astro Boy and Conquistador.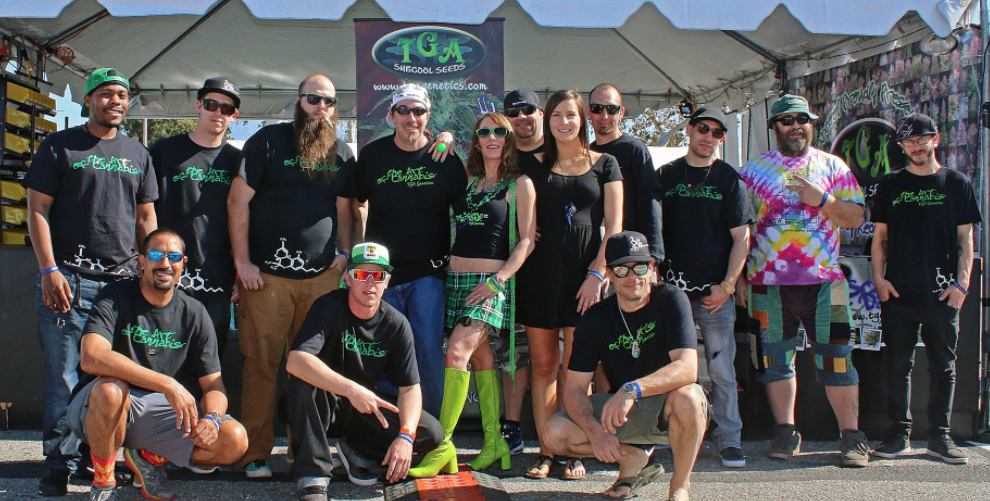 Suny Cheba was also one of TGAs original breeders. Suny contributed some well known amazing strains such as Double Purple Doja and Lemon Freeze.
TGA's most impactful breeder was Dioxide, who is now the owner of several dispensaries in Oregon. Dioxide created many strains for TGA which TGA has continued to offer such as Chernobyl, Jesus OG and TimeWreck.
Also, Pat from Heroes of the Farm created several strains under the TGA umbrella that can still be found at Heroes of the Farm, such as Conspiracy Kush and Locomotion.
Homegrown Natural Wonders eventually came to TGA as a father and son team. Odie, Mushmouth and MSCI created the award winning Quantum Kush and Dr. Who, just to name a few.
Jinx and Miss Rose finally completed the circle in the TGA family with their amazing son Jinx JR reminding us all how to be better humans. Jinx and Miss Rose run an active Autism Awareness Charity called Northwest Families for Autism. Jinx created the famous award winning 9lb Hammer and several other strains that he still offers through Jinxproof Genetics.
TGA was more than a team of breeders: we were a group of people that shared a love for the plant and had a desire to unleash the medical benefits it held.
We made medicine to heal the patients and to provide enjoyment and wellbeing.
Besides creating award winning strains, TGA also focused on charities and fundraisers for those less fortunate.
In October 2017, Sub and I lost our home and the TGA facility to a wild fire in Northern California. After this tragic loss, Sub and I decided to go our separate ways in both our business and personal lives.
I went on to create MzJill Genetics and Sub went on to form Subcool The Dank with his partners Will and Victoria.
Back in 2011, Sub was diagnosed with a disease called Alpha-1. A person with Alpha-1 has a liver that does not create the enzyme necessary to repair the lungs.
Sub also suffered from the disease of addiction. The diagnosis of his fatal disease Alpha-1, triggered his addiction which he continued to struggle with throughout the remainder of his life.
In the early morning of February 1st 2020, Subcool passed away peacefully in his sleep.
As I continue my journey into the next chapter of my life in the industry I will continue to honor his memory and contributions to the plant.
Subcool and I, along with our team of amazing breeders, wrote a piece of history together.
I am grateful for all of the people involved in my story and am excited to continue the tradition of educating and creating high quality medicinal strains.
MzJill
MzJillGenetics.com
[email protected]
[email protected]_
Written and Published By MZ Jill In Weed World Magazine Issue 146