Imagine waking up in a colorful and beautifully appointed, mid-century modern themed room, then reaching for your vape pen on the bedside; or enjoying your Volcano on the coffee table like you were at home. Then imagine going outside in a lovely courtyard, overlooking the California Desert, burning a fatty, while your dog mingles and plays with other dogs. No you have not died and gone to heaven, but the Desert Hot Springs Inn, just 20 minutes from Palm Springs in the California Desert is a close second.
For those of us who grew up with the prohibition of cannabis, and those living in not-yet-legal states, recreating and medicating out back by the trashcans has been part of the pratfalls of partaking. In legal states, where cities have given the green light to for 420 friendly lounges, café's and hotels, they are a breath of fresh vape to the patient or partaker. Waking and baking at poolside, in my plush hotel bath robe, smoking a bowl of California's finest, then taking a dip in the naturally warm mineral pool, is something I never thought I'd experience in my lifetime.
Filling pot holes, rebuilding community The California Desert is also home to tawny Palm Desert, with its El Paseo district likened to Beverly Hills' Rodeo Drive; and Hollywood's playground, Palm Springs, with a weed-friendly lounge smack dab on the main drag; and green golf courses dotting the landscape. Desert Hot Springs (DHS) is the little town on the other side of the expansive valley. Traditionally a low-rent neighborhood, the City was forced to file bankruptcy a few years ago, with its Mayor, Scott Matas, suggesting the City Council get on board for cannabis. The city wanted to be ready when legalization hit, stating, "We just want to maintain our city and fill the potholes," Matas said, with no pun intended. The city got to work, allocating nine acres of outlaying property to cannabis farming and production, currently boasting 18 large multi-use scale facilities on the outskirts of town, with more planned; with a plethora of dispensary options in town. "The stigma from the public is that you are going to have crime because people are buying pot, but it's just not true," Matas defended. "We have little to no crime to speak of surrounding the cannabis businesses. They are all run very professionally.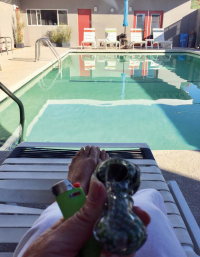 Inn Keeper, John Thatcher, brought the idea of a cannabis-friendly option to its owner, who was immediately open to the idea. Being a private property, no special licensing was needed, making it a smooth transition.
Healing waters, fragrant flowers, and thou
In August of 2017, the Inn updated its offerings, with Thatcher and owner pleasantly surprised at the surge in bookings. Also surprising was the amount of older guests from illegal states, sharing, "Many of our guests come to heal and medicate from states where cannabis is not available to them. A good number of people arrive to heal, suffering from real medical conditions." DHS has long been known for its naturally occurring and healing mineral springs, stretching for miles under the city. Hotels and motels once dotted the landscape overlooking the valley, with swimming pools and hot tubs fi lled with its healing waters. Add cannabis, and it's a win-win for patients and those wishing to relax and recreate. Also dog-friendly, the Inn puts no restrictions on the size or type of dog welcomed – with no additional fees or deposits. Its fl oors are designed for easy clean-up, and the entire complex safe for your pet to roam free – albeit, supervised. A nicely appointed kennel is also available to safely leave your dog when traveling into town or out to dinner. My friend's dog, Brutus, was on loan for the experience, and his favorite spot was lounging poolside in the sun, then roaming freely in the safe and secure fenced yard out back – as I lounged nearby. Hiking and rock climbing is just a 30 minute drive to scenic Joshua Tree National Park, with historic 29 Palms just beyond.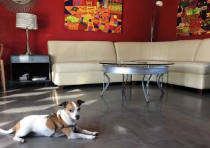 If you build it, they will come
Private parties and cannabis-friendly events are common place at the Inn now; easily filling the boutique hotel's six rooms, including suits with kitchenettes, and adjoining rooms for larger parties. Each room overlooks the mineral pool and the desert valley beyond. Sunrise and sunsets are breathtaking, with a star-filled sky at night. Its full kitchen in the common room is perfect for cannabis infusion chefs to entertain, opening up to both pool and a dog-friendly, fully enclosed yard, with a barbeque and lounging areas large enough to accommodate events. Additional perks include scheduling in-room massages with the inn's own signature formulation of 50 milligrams of CBD per ounce of oil. Since cannabinoid only compounds are non-psychoactive, there's no high in the massage, only a blissful, healing state of total relaxation – as defi ned on the inn's website. Swedish, deep tissue, or a combination of both are offered up. Also available is a lymphatic massage, stimulating the lymphatic system, releasing toxins – essential to the healing process, promoting a deeper relaxation. Whether you are arriving to heal or enjoy the freedom of partaking in the California sun, the Desert Hot Springs Inn, for this cannabis patient, was truly a thing of beauty in more ways than I can put to words. I'm from the 70s and grew up in Southern California. My parents retired in Desert Hot Springs in 1984, and I've spent many hours at several of these hotels up on the hill. If you would have told me that one day I'd be able to sit poolside in a hotel robe enjoying weed grown just up the road, I would have thought you dropped the entire tab of acid. The Desert Hot Springs Inn may not be heaven, but it's as close as this writer has gotten – fatty in hand, as I gaze out over the desert valley I've grown to love.
Published by Sharon letts in  Weed World Magazine issue 142